You learn designing, prototyping and coding with the help from our coaches.
You need your own laptop, curiosity and a sprinkle of imagination!
Want to help? We are looking for volunteers and Rails coaches. Email us.
---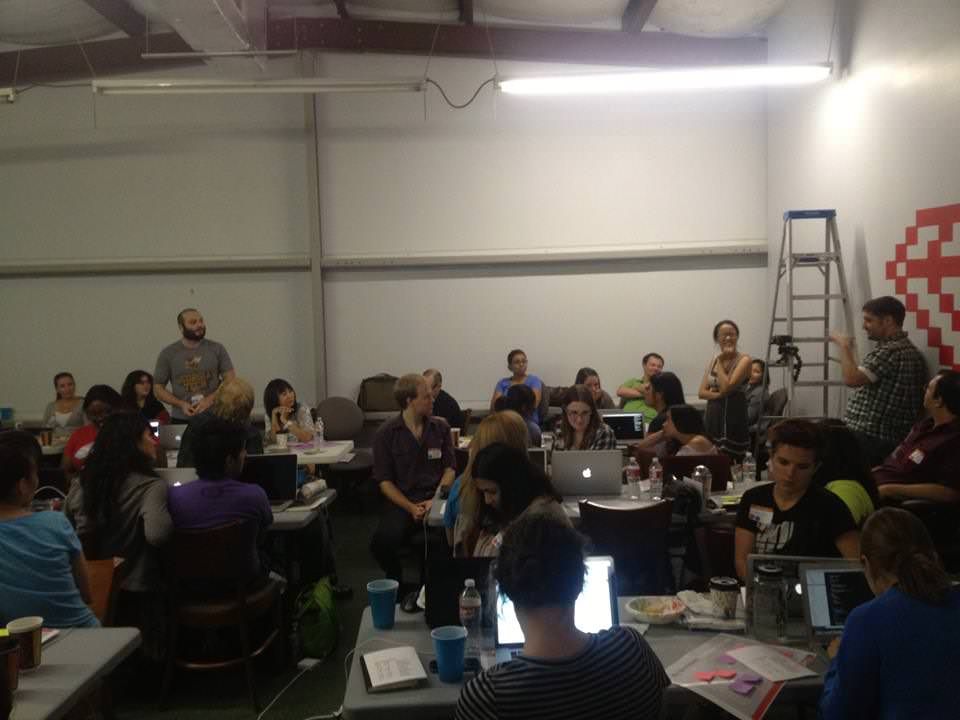 Schedule
Friday, October 24th, 2014
6:00pm - 8:30

Installation party

Completely optional, as long as you can install everything yourself! Bring your laptop if you can, so we can install Ruby on Rails for you. This is an open block of time so drop in whenever is good for you. You'll get to meet coaches and fellow Rails Girls!
---
Saturday, October 25th, 2014
9:00 am - 10:00

Registration, Breakfast/Coffee & Installation Fest

During the morning, we'll install Ruby on Rails on your computer while enjoying coffee and breakfast.

10:00 - 10:15

Welcome

We will talk about the day and get a word from our sponsors.

10:15 - 10:45

Introduction: The Web as a Restaurant

Let's learn about what really happens when we type in a web address.

10:45 am - 1 pm

Workshop: Let's get coding!

We will break into small groups and jumpstart your first web application!

1:00 - 1:30

Lunch

1:30 - 1:45

De-coding Websites

Let's dig a little deeper and understand what's behind the magic of big web apps!

1:45 - 4

Workshop: Keep building!

We will continue building out your web app.

4 - 6

Exploration

Try different ways of customizing your web app.

6

Closing Remarks

6:30

A very Rails Girls dinner!

Hang out and have dinner with us in Rice Village!
Information
Application closed: October 15th
Acceptances informed: October 17th
Location:
TBD
---
Partners
Rails Girls Houston is co-organized with and sponsored by our awesome partners.
---
How much does the workshop cost? Nothing, it's free! You just need to be excited!
Who is this aimed for? Women of any age with basic knowledge of working with a computer. We've had people of all ages taking part. Please bring your laptop.
Can men attend? Yes, but bring an interested lady and indicate this on the application. Also, girls are given a priority.
I know how to program - How can I help? We're also looking for people to be coaches. We'll have a two-three hour workshop before the event to walk you through the curriculum. Email us